ALAN FITTON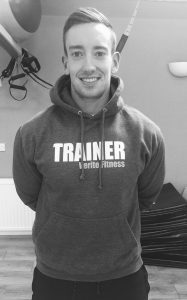 Expertise
Fat Loss
Muscle Gain
Strength & Conditioning
Lifestyle Coach
Background
My philosophy is that you should always be attempting to be the best version of yourself. I spent years being overweight, depressed and not living my life to the full.
For 11 years, I worked within the Retail industry – from working part time whilst studying at college, to spending my final years within Senior Management roles. I believe this gave me the confidence and people skills which I have now. During this time, I underwent a dramatic lifestyle change, lost 7 stone and fell in love with fitness, exercise and nutrition. This become my passion, which I decided to turn into my career. I became a Qualified Personal Trainer whilst working at Verite Fitness. Through gaining knowledge and experience, this led me to be the Head Trainer.
How did I lose 7 stone?
I ate less and moved more – it really is that simple. This does not however represent how challenging this is, both physically and mentally, when you have been inactive and eating the wrong foods for most of your life!
YOU got yourself into the position you're in and YOU have the power to change
Set a goal – for example, mine was to fit into a small shirt, or it could be to get down to a certain goal weight within a specific timeframe – this helps to keep you accountable and motivated
Be more active – the more you move, the greater calorie burn. I got myself a full-time job which forced me to move more. I prepped food for work. I began cycling to and from work and upping my daily activity, therefore burning more calories
Stop snacking on sugary foods as they will not fill you. I cut out snacking completely and only ate breakfast, lunch and dinner (if I was uncomfortably hungry, I snacked on fruit only)
Drink plenty of water (on average, at least 3 litres a day!) – I began drinking water by the litre which kept me fuller for longer in-between meals, hydrated and full of energy
Stop looking for a fast fix – there is nothing on today's market that will make you magically lose weight and keep that weight off (I didn't take any supplements or buy any dieting cookbooks)
Eat nutritionally complex foods – base your foods on fruit, vegetables, white means and ground grown carbohydrates (I kept my meals simple with foods I enjoyed eating, then allowed myself a treat at the end of the week)
Keep track of your weight and take weekly/fortnightly progress pictures (I kept track of my weight by monthly weigh-ins and simply by the fit of my clothes)
Wise up on your nutrition – I lost 5 stone from eating better and being more active, without stepping into the gym!
Qualifications
NVQ Level 2 Exercise and Fitness & Gym induction
NVQ Level 3 Personal Training
Life Coaching Diploma
Testimonials
Pauline Easterbook
We had a tough but rewarding cardio workout with Alan. Still suffering slightly, but good pain, so they tell us!! It is a fab gym with top class personal trainers getting the best out of you. It has worked wonders for our fitness levels, toned us up and dropped a dress size or 2. Alan is always so helpful and makes it fun at the same time
Tina Davis Taylor
Great session with Alan. I left feeling like I had worked hard. Such a friendly place and I love going!
Debbie Lock
I couldn't give you guys anything but 5*! I have been training with Alan and I have to say, the guy is amazing. Not only has he helped me with my training needs, but also my diet and most importantly my self-confidence. He always pushes me to the next level in my sessions, whilst having a laugh at the same time! I cannot thank him enough for how much he has helped me.
Mike Clements
Didn't think I would, but I have really enjoyed my training sessions with Alan – feeling fitter and healthier. I would recommend Verite Fitness to anyone wanting to change to a healthier lifestyle
Tracey Hughes
For the past 2 years, I have training at Verite Fitness. Coming in, I considered myself to be relatively fit as I did quite a lot of running, although, I felt I needed additional inspiration.
I found the training provided by Alan extremely informative. I was advised to add more variety and weight training into my workouts to help me build more muscle. This, along with advice on nutrition and calories I should consume based on my height and activity level, gave me the extra push I needed, as well as help me feel fitter and more toned.
As someone who has a gym class phobia, I nervously gave the Verite bootcamp classes a try. This was a great decision as I do morning classes now whenever I can. The classes are a small group of friendly people, all of differing fitness levels. The classes change each week during the 6 week course, offering plenty of diversity in each session.
I have really felt the benefits from the expert advice I've been given, and recommend Verite Fitness to all, including gymphobe's like me!
Hayley Moss
It has always been my ambition to join the Police, although passing the strength test was holding me back. Having failed twice it was my last chance to really be proactive and give myself the best chance to pass, so I got in touch with Alan Fitton. Through his professional guidance and support during my personal training sessions, I have now achieved my goal. In a relatively short space of time, I went from very little upper body strength to being able to exceed the police test requirements. Our sessions were always fun, always different and extremely motivational. Alan helped to build my confidence and make me believe in my ability to pass. I now have a real passion for weight training and pushing myself to be the best I can be. Alan has helped me not only to physically change shape but to also change my outlook on leading a healthy lifestyle and training in general. I would 100% recommend Alan to anyone wanting to achieve their fitness goals.